Send Them Money, Fast
Whether it's an allowance, a gift, or something totally different, we know you need a convenient, and secure, way to send your student money.
If you are an MCCU member, we can set up your MCCU Online account, so you can view your student's account when you log in. This allows you to see balances, transactions, and easily transfer between your account and theirs (and vice versa).
Not an MCCU member? You can still transfer money from your financial institution, to their MCCU account. Contact your bank or credit union for more details.
Education is Key
For some students, learning how to manage money, the difference between a debit card and a credit card, along with everything else related to handling their own account, can be tricky. But it doesn't have to be!
We have free financial education videos on our YouTube channel, for anyone to access, anytime. And we partner with several area high schools to offer free financial education classes to students. We focus on topics such as budgeting, credit, fraud prevention, and more – helping your student gain financial confidence and knowledge. And, our dedicated employees enjoy working with students, providing them with support, and educating them on how to become financially responsible and independent.
Have a student that attends Marshall High School? If so, our MHS Student-Run Branch is open each Friday, throughout the school year, during lunches, so students can make deposits, withdraw cash, ask questions, and more. Find us right inside the cafeteria!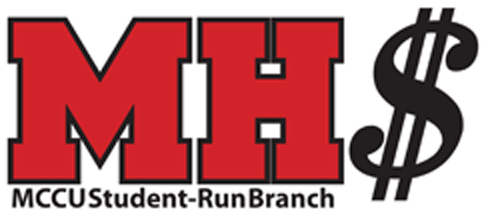 It Takes a Village
Parents have enough on their plates. So, when it comes to teaching kids about money and finance, we're here to help!
Our accounts are designed with your student in mind – making sure they're set up for financial success now and in the future. From our totally free checking that remains free, even after graduation, to our Youth Loans and our Visa Credit Cards, that help students build credit. We also offer savings accounts that help them build a financial safety net, low-rate auto and personal loans, and so much more.
MCCU is Here for You, Too!
Just like your student, you are also eligible to open an MCCU account. And we have the products and services you are looking for! From our opening in 1951, one thing has never changed: our focus on our members. Our mission is to partner with members for financial success through service, solutions and education. MCCU is a full service financial institution offering a wide array of products and services designed to fit every stage of life, from youth accounts to retirement and planning and everything in between. How can we help you reach your dreams?